Sunday, July 1. – The "Notas diarias (Daily Notes)" of the Scripture Union for the second semester of the year are available.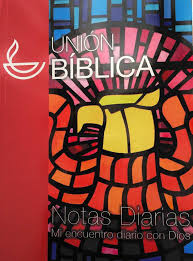 Friday, September 14, at 7:30 p.m. – Workshop-Presentation for Sunday School teachers of the new materials (second year) of the "Explora" Currículum for Children. The characteristics, the novelties and how to use them were explained. It was held at the Abba Bookstore in Barcelona. You can watch the video (in Spanish) on the bookstore's Facebook page.
Saturday, September 15, at 6:00 p.m. – The presentation of the campaign "Operation Christmas Child 2018" took place in the Evangelical Church at 89 Trinxant Street in Barcelona. Organizers gave information and experiences were shared.
Sunday, September 16, at 11:00 a.m. – Baptism Service in our church. Three people (Isabel, Mari and Javier) bore testimony to Jesus Christ as their Savior by going down into the waters of baptism this day. In the program there were musical performances, by the praise group and the church choir; biblical message, by Pr. Benjamin López; the Lord's supper, by Pr. Pedro López, and final prayer, by Pr. Daniel Zoppetti. At the end of the event, a snack was served to the attendees.
From Thursday 20 (at 6:30h p.m.) to Saturday, September 22 (at 1:30 p.m.) – A series of lectures and workshops addressed to pastors and preachers took place in the Evangelical Center of Biblical Studies (CEEB, in Spanish). The theme was the current challenges facing the biblical exposition. They were in charge of the "Ministerio Reforma", which produces several radio and television programs that are broadcast around the world. They were taught by members of this ministry: Kurt Selles, Guillermo Serrano and Ricardo Ayala.
Sunday, September 23, at 11:00 a.m. – Our sister Adriana presented the information about the "Operation Christmas Child" which is already underway. After seeing a short video, she explained how we can collaborate and how to prepare the boxes with gifts inside. During the months of October and November, we can bring our boxes to the church, which will be sent to children of the Sahara.
Saturday, September 29, at 6:00 p.m. – Our church hosted the "Graduation ceremony and Beginning of the 2018-2019 academic year" of the Evangelical Center of Biblical Studies (CEEB, in Spanish). The program consisted of: Presentation of the new course (Pedro Pérez), Graduation message (Jaume Llenas), Musical participation of our Choir, Testimonials of the students and Delivery of diplomas.
Sunday, September 30, at 11:00 a.m. – In the morning Service, we had the visit of Dr. Pablo Martínez Vila (psychiatrist, lecturer and writer), who offered us the message "Abraham, 'the friend of God'. The secrets of a man of faith". In it he told about four characteristics of this patriarch for which he is called 'friend of God': faith, obedience, love for people and prayer life.